The 10 Best Beaches In Singapore
Do you belong to a vast community of beach lovers who enjoy the clear sea, swaying trees, sandy beds, sun loungers, beach parties, and beach sports?
The most excellent beaches in Singapore will entice you all year long, and we can assure you of that. The weather is perfect for outdoor activities like swimming and beach games, particularly from late November to early March.
Singapore's famous beaches are divided into two major groups: the Sentosa Island beaches and the beaches along the east coast.
Although Sentosa is more active due to its extraordinary popularity, both clusters are immaculate. These Singapore beaches are great for swimming and having fun, but the eastern coasts would be a better choice if you're seeking solo relaxation and laid-back camping fun.
Here are some of Singapore's best beaches if you want to relax by the beach, have an excellent time in the sun, and enjoy some of the best outdoor activities in Singapore.
Best Beaches in Singapore
Tanjong Beach, the most segregated and far-flung of the three beach portions, is situated on lovely Sentosa Island. Tanjong Beach has a better chance of locating a quiet space beneath the palm palms, yet Sentosa Island sees over 20 million tourists annually, so it doesn't mean you'll be completely alone there.
On weekdays, the beach is even more deserted. Come in the evening to see the cruise ships passing by and the distant, glittering lights.
The beach is situated in a crescent-shaped bay bordered by several trees that provide shade from the sun. The sea is warm and inviting for swimming, and the sand is the whitest. Tanjong Beach is dog-friendly, so you'll frequently see people wading into the sea alongside their four-legged friends.
Want to see something new? The only place to eat on this beach is the Tanjong Beach Club, which is a big draw. It provides a swimming pool, lounge chairs, and cabanas in addition to twice-monthly live music events.
Activities include dancing, playing volleyball, and horseback riding. The amenities include a beachside pool, cabanas, loungers, shelters, rental bikes, and deck chairs.
To get there, the Sentosa Express may take you to this beach. The tram that connects Tanjong Beach and Palawan is another option.
Palawan Beach – The Perfect Beach
Palawan Beach is the most visually well-known of Sentosa Beach's three portions. At the end of a stunning suspension bridge with viewing towers on either end, it is situated smack dab in the heart of the island.
For a 360-degree panorama of the ocean, the tropical vegetation, and the shoreline, climb up. Then turn around and walk backward on the finest white sand while listening to the waving palm trees around you. With its tranquil, warm blue seas, Singapore's best swimming location is here.
The island of Palawan, which is close to the equator, is a photographer's dream. Tanjong Beach is nearby, and despite having more attractions and activities than boisterous Siloso, it is still considerably more laid back. Families, solitary travellers, couples, and families searching for a place to relax and enjoy a picnic are all prevalent here.
When you're ready for some entertainment, consider swimming to the small island close to the coast, going to KidZania, trying the immersive virtual world MOSH!, or having a delectable dinner at one of the many restaurants and cafés located right on the coast.
Activities include relaxing at the beach, participating in water sports, and taking pictures. Port of the Lost World, a water park with a pirate theme and clean water, is a popular tourist attraction. Facilities include beach shelters, play areas, gift stores, and restaurants in the form of cabanas. February and March are the ideal months to visit.
To get there, it is easily accessible via any city's public transportation system. From Vivocity Level 3, one may take the Sentosa Express, and from there, one can take the blue line to get to Palawan.
Changi Beach – A Beach in the Tropics
One of Singapore's top tropical beaches is Changi Beach, on the east coast. Families, health nuts, and leisure seekers are the ones that frequent this location the most.
The 3.3-kilometer-long Changi Beach Park features sections of golden sand that are popular with locals and includes Changi Beach. One of Changi Beach's charms is that it needs the trendy, contemporary appearance of Sentosa Island's beaches. The area still appears as a kampong, a traditional floating village throughout much of Asia.
The Changi Ferry Terminal, located next to the beach, is the only way to travel to Changi.
There are lots of BBQ pits, places to rent kayaks and canoes, and restaurants with outdoor seating if you want to stay on dry land. People come to Changi to enjoy the sunset or to observe low-flying jets headed to the adjacent airport, making it the ideal beach for lounging.
There are several locations to set up camp close to the beach, or you can travel to Changi's northernmost point to find the most lavish resorts in the region. Kayaking classes are available at the Sea Sports Club, and a path leads back to the shore.
January through March is the ideal time to visit. To get there, Changi Beach is accessible by bus routes 9, 19, and 89. The best way to get here is by this route.
On Sentosa, Siloso Beach is the hub of activity. Siloso Beach is constantly bustling with activity, so there is always a bright time there. On the beach, you can see people partying, dancing, kayaking, playing volleyball, and riding horses. Siloso is one of the best beaches in Singapore because of the incredible restaurants and beach shacks.
It only gets a little better for dining and shopping alternatives than Siloso, where you can find everything from the typical beach restaurants serving pizza and fast food to Hawaiian-themed meals, fresh fruits, and even poke bowls. When you need a break from the golden sands, many options are available thanks to the abundance of shops and cafés along the shoreline.
The hippest beach in Singapore is Siloso, which is also home to some of the island's best attractions and live music venues. Even though there aren't any sun loungers permitted on the beach, you may still bring a blanket and sit on the smooth sand for a time. However, this isn't the beach where you can unwind with a book.
Need the most fantastic views in town? You may enjoy 450 metres of breathtaking landscape as you soar over the water and beach on the neighbouring MegaZip zipline. There are also two luge tracks, one of which has neon lights you can ride at night, a chair lift ride, a 50-meter-tall bungee jumping tower, and chances for rock climbing and rollerblading.
Beach sports include beach volleyball, banana rides, beach riding, and casual restaurants selling various snacks and drinks, which are popular tourist attractions. Beachfront hotels, a beach tram, pavillions, restaurants, small stores, and pathways are among the amenities offered. November to January and May to August are the best months to visit.
To get there: The closest MRT station is Harbour Front, and bus number 123, a taxi, or the MRT may all be used to get to the Beach.
Punggol Beach – An Unusual Beach
One of the best beaches in Singapore is Punggol Beach, hidden under the equally unexplored Punggol Point. But because of its attractiveness, it is consistently listed among Singapore's beaches. Punggol Beach will resemble a tropical paradise for people looking to escape the busy Singaporean lifestyle for the day.
Although the beach is easily accessible from the central city via the MRT shuttle and bus, few people go there. Couples and people looking for serenity will find this spot to be of exceptional beauty and calm. The large rock boulders that disrupt the fine sand spread make for a beautiful sunrise and sunset scene. Additionally, many islands are close to Punggol, which adds to the pleasure.
Punggol, the scene of the 1942 Sook Ching Massacre and afterward, a remote region home to wild pigs, has been cleaned up and reimagined over time. It now provides a peaceful retreat in Northern Singapore, where you may sink your toes into the fine sand or plunge into the cold waters for a refreshing dip.
The numerous boulders on the beach at Punggol provide breathtaking views of the sun rising and setting over the lake, making it a popular destination for photographers and wildlife enthusiasts.
Punggol Settlement, a neighbourhood with numerous restaurants, eateries, and places to rent bicycles, explore flora and fauna at the Lorong Halus Wetlands, and stroll along Punggol Promenade, Punggol Waterway Park, can be found just steps from the beach.
To get there, the MRT is the best method of transportation. Get off at Punggol Station and hop aboard bus 84.
St. John's Island – The Secret Beach
St. John's Island in Singapore is renowned as the ideal spot for the perfect beach vacation because of the abundance of mother nature's wonders that cover its surfaces. You can see friendly cats walking freely on this island. The hidden treasures on this island, which take the form of tunnels and corridors, are its best feature. St. John's Island, which attracts adventurers, has dense mangrove forests on its ground that are ideal for quick hikes.
Stunning coral reefs surround the tiny, golden, and silky beaches at St. John. They're a terrific location to unwind while taking in the sound of the waves lapping against the coast. The island also has picnic areas, swimming lagoons, and a rural atmosphere that will appeal to those seeking a more sedate vacation.
Since there are no accommodations on the island, visiting St. John's for a single day is possible. The Holiday Bungalow, a single home that up to 10 people can share, is the lone exception.
Visit Singapore in December for the best chance to enjoy this lovely beach. Additionally, there is no food service on the island, so pack your food if you plan a picnic.
One of the best ways to get there is to take a ferry from Marina South Pier. The Singapore Island Cruise booth is where one can purchase trip tickets. If you don't have accommodations on the island, make sure you attend the final boat return, which departs between 5 and 6 pm, depending on the day of the week.
East Coast Beach – A Beach Park with a Theme
The largest park in Singapore runs 15 kilometres along the southeast coast, right up against the water. The beach is artificial, constructed on reclaimed ground, and has many areas for sunbathing, just like most of Singapore. Given the park's enormous size, there is plenty of room for guests to kayak, windsurf, and swim in a private area away from the masses.
East Coast Beach is a terrific weekend getaway because there are bike and walking pathways, many restaurants with beach views, camping areas, and BBQ pits, so it's preferable to travel during the week if you want peace. You might easily forget that a bustling city is only a few minutes away while you are sitting beneath the swaying coconut trees.
The Xtreme SkatePark, cable skiing, and cycling circuits are available for those seeking a more active vacation. Additionally, plenty of beach cafes are nearby, and the park even provides shower facilities for a quick rinse after a day of playing in the sand.
To get there, it is conveniently accessible via the East Coast Park Service Road or bus route 401.
Lazarus Island – Top Beach in Singapore
Lazarus Island, connected to St. John's Island by a bridge, is one of Singapore's most exclusive beaches and a well-kept secret. It takes only a short distance from the bridge to reach the C-shaped lagoon and one of the area's whitest, softest beaches.
The serene beach is nearly always uninhabited, especially during the workweek, and ideal for a stroll or a swim in crystal-clear waters. Picnics are very common at Lazarus. It provides a lot of shade from the coconut palms that line the beach and a rain shelter for the sporadic afternoon downpour.
Lazarus Beach's entire vibe—turquoise ocean, white sand, and upbeat atmosphere—can compete favourably with the top honeymoon spots in Asia. A fantastic hiding place is the beachside tropical rainforest.
To get there, take a ferry from South Marina Pier to the island to get there. After a few hours of relaxation, if you like exploring more, take a stroll back to St. John's Island and hire a boat to visit Kusu and other islands.
Pulau Ubin Island – The Precious Beaches
When the local granite quarrying sector started to decline, tourists began to travel to Pulau Ubin for other purposes. Numerous endangered bird species are on the island, a component of the Ubin-Khatib Important Bird Area (IBA).
Pulau Ubin is one of Singapore's largest (and last remaining) rural areas; there needs to be urban development, centralised public transportation, and wooden jetties and cottages are more prevalent than cement buildings here.
The island is accessible from Changi Point Ferry Terminal by boat and is a beautiful day trip. Here, between coconut rubber plantations and hiking trails that wind through the tropical forest, is the last intact kampong in Singapore.
Chek Jawa is home to rocky and sandy beaches, a fantastic swimming lagoon, and a sizable stretch of forested coastline. If you want to hang out and have a picnic, bring your food, as there are just basic amenities in the area.
How to get there: After arriving at Changi Point Ferry Terminal, board a bumboat to cross the journey in around 15 minutes.
Kusu Island – The Undiscovered Beach
Kusu Island is one of Singapore's calm beaches, situated off the coast of Singapore. There is a sanctuary on the island where many turtles live.
Being one of the best beaches in Singapore, it has a lot to offer. Activities include relaxing at the beach, participating in water sports, and taking pictures. There are a few restaurants, cabanas, beach shelters, and paved walking routes.
The island draws tourists because of its immaculate beaches and stunning blue lagoons, but it is still a peaceful, off-the-beaten-path setting, so there aren't many people. Off the coast, snorkelling is excellent, and a stunning Chinese temple is open to visitors.
No food stalls on the island and overnight stays are not permitted. Bring drinks and snacks to use the picnic tables and BBQ pits if you plan a dinner by the water.
A ferry is a best and only way to get to this location. One can board a ferry from South Marina Pier, which is close to the Marina South Pier MRT Station.
The 10 Best Beaches in Singapore – The Conclusion
Singapore is home to many beautiful beaches. Are you mesmerised by the variety and splendour of Singapore's shores? Explore the best beaches in Singapore by booking a trip there right away! Just grab your hat, sunglasses, sunscreen, and beach gear and head to the Lion City.
Add a header to begin generating the table of contents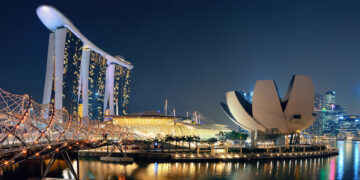 Marina Bay Sands is an iconic integrated resort in Singapore renowned for its remarkable architecture, luxurious amenities, and exciting activities. Located in the city's heart, ...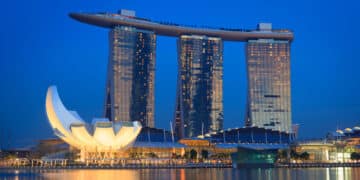 Marina Bay Sands is an integrated resort located in Singapore. The construction of Marina Bay Sands began in 2007 and was officially opened to the ...